MAY 2014 UPDATE: PRINCIPLE PHOTOGRAPHY BEGINS!

May 26, 2014

By
Aladdin3477

Production News

1 comment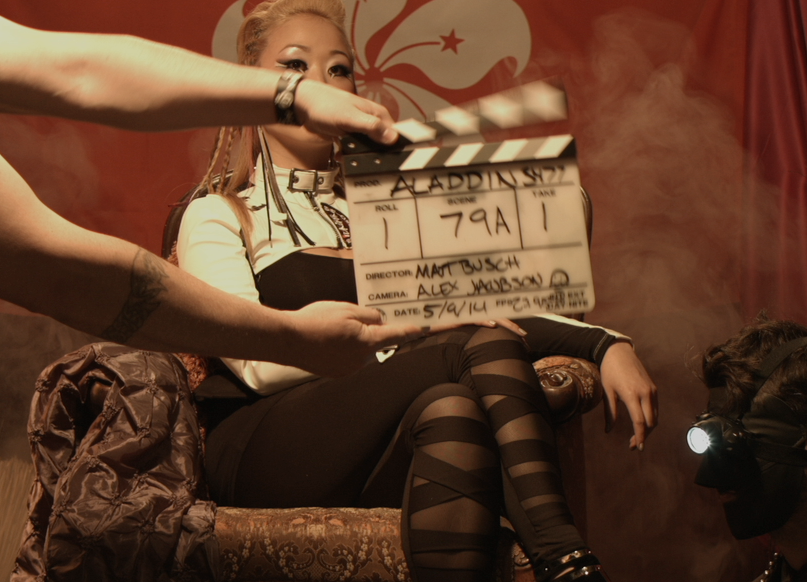 From the desk of Director Matt Busch, here's a new ALADDIN 3477 update!
Hi everyone! Filming has begun on Aladdin 3477! So much going on, I don't even know where to start! So here are some random tidbits…
** We began shooting May 9th on our soundstage in Clinton Township. To the left you can see a glimpse of the very first shot we filmed for the movie- an establishing shot for Keeta Ratana's lair. Keeta is played by Jessica Nordstrom, who happens to be my sister, and you can see a glimpse of her slave in the lower right-hand corner, who is played by her husband Patrick.
** The plan was to run through as much as we could with the first scene before shooting On Location for our desert scenes. We wanted to work out all the kinks and make sure we wouldn't be stranded in the sand dunes without something vital needed to shoot. This meant completing that first scene all the way through editing to make sure the footage, storage, data, and all the other technical mumbo jumbo was ready to rock.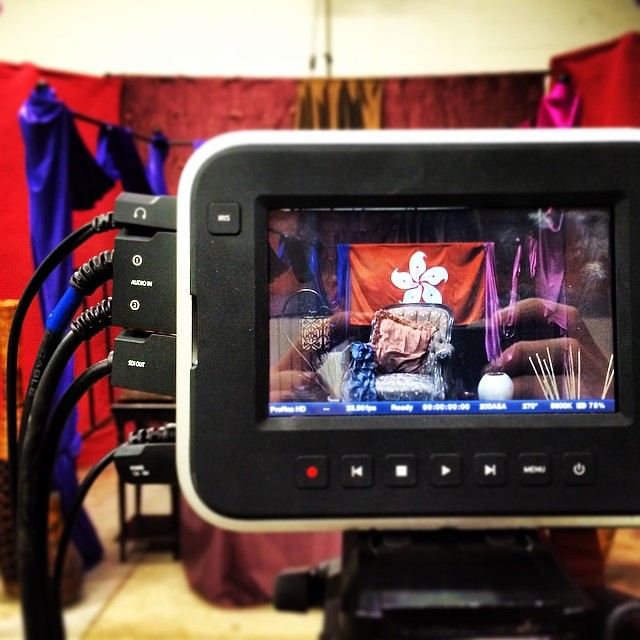 ** For the most part, we are shooting on the Black Magic Cinema 4K Camera. We did extensive research on what the best camera would be for this production. I personally viewed hundreds of comparison shots Online to really see what looked best, and the Black Magic seemed to win in every category that was important to this film. In particular, I'm fond of the Black Magic's global shutter, as many of the competitor cameras out there have rolling shutter issues with quick pans and spinning objects. This would be a huge problem on Aladdin 3477, considering all the quick movements and fight scenes with spinning weapons.
** I'm proud to report that, as the director steering this ship, I acheived "first blood" on set. I was using a 4 inch hole-cutting saw that my Dad told me not to use by myself. So of course I did. I was cutting through some plastic parts when it caught onto a piece and the running saw flew out of my hands. It caught my thumb, and let me tell you, the blade really pulls you in and it chewed my thumb up real good. I have a pretty good fear of real blood, so thank God that Lin Zy, who actually began her college years going to Med School, was there. She calmed me out of my panic mode and taped me back together. Here's hoping it's our first and last major injury on the set! Moral of the story: Listen to your parents, kids!
** Lin Zy did manage to fracture her thumb in a fight scene where she accidentally clocked actor Tony Miello in the forehead. Miraculously, barring some sand in his eyes, he came out unscathed.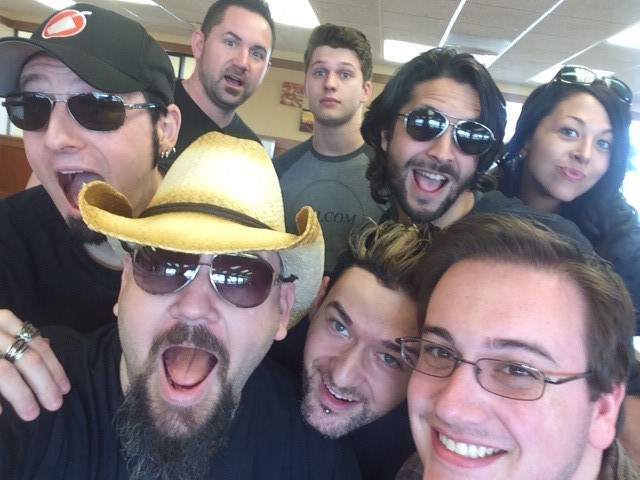 ** May 18th is when the majority of us packed up and hauled out to the Silver Lake Sand Dunes State Park in Mears, Michigan to film our desert scenes in the movie. A few of us were already there the weekend before, helping to scout out locations before our arrival. To the left you can see a few of us doing an epic selfie during a pit stop at the BK Lounge. Clockwise from upper left: First Assistant Director Ric Viers, FX Makeup Artist Nick Goodwin, Director of Photography Alex "Ghost" Jacobson, Actor Erik Steele, Actress/Producer Lin Zy, Movie Documentarian Steve "Oz" Pankotai, Actor Jon Rick, and myself. We were extra excited here because we caravanned in separate groups that left an hour apart, and yet we somehow ended up at the same fast food restaurant in the middle of nowhere, completely unplanned.
** Our cast and crew was pretty big for an independent film shoot. Depending on what actors needed to be there for which days we were shooting specific scenes, we had to make sure we could accommodate everyone. Both my parents and Lin Zy's parents really came through and helped a great deal. In addition to incredible catering, they carted people to and from the sets and really just helped as grips and everything you could imagine. We rented a house that slept 8, but we still had an overflow and had to get 4 more hotel rooms with double beds to hold us all.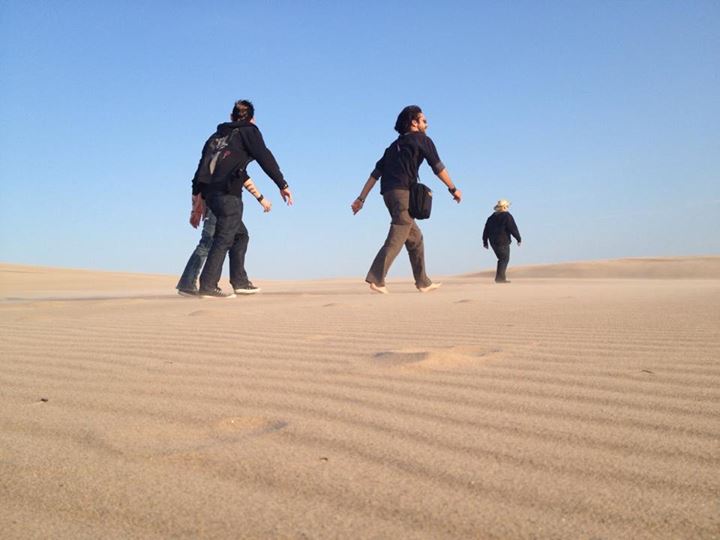 ** Arriving late in the afternoon on the 18th, a bunch of us headed out to the dunes to finalize our locations. This worked out well, and we didn't have a permit to start shooting until the next day anyway.  Technically, we shot 22 scenes out there, but really they are broken down into 6 key scenes. To the right here you can see us trekking out on the dunes for the first time. From left to right: Ric Viers, Jon Ric, Erik Steele and myself.
** We were extremely blessed with weather. The week prior, the forecast for where we were shooting showed nothing but rain and thunderstorms. And even once we were there, it seemed that the following day was always going to be a rain day or worse, but somehow it always seemed to avoid us.
** One snaffu we did run into was at the end of a long day of shooting- right into the sunset, when we all went to leave in our ORV trucks, my Hummer's battery died! So we were stranded at night in the desert! By the time help had arrived, Lin Zy, decided to give it one last go, and the truck started right up! From then on out, however, the Hummer needed to be jumped any time the engine was shut off.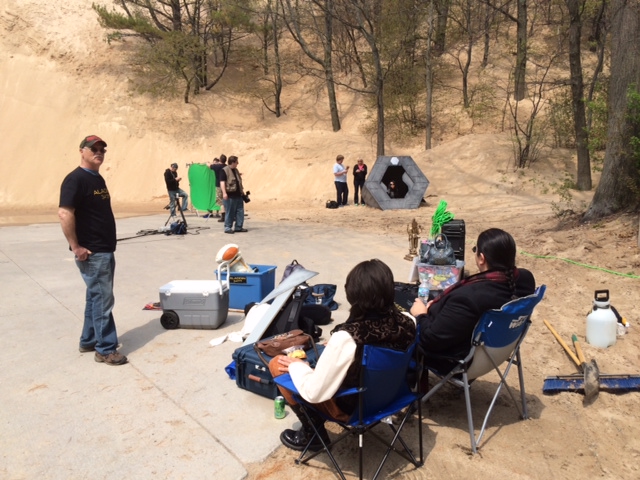 ** To the left you can see one of our set pieces we shot on May 20th: The Rear Rashmi Access Port. Clockwise from left: my father- Production Designer Frederick Busch, Ric Viers, Alex Jacobson, Nick Goodwin, Steve Pankotai, Lin Zy's parents- Production Designer Clayton Selestow and Costume Designer Betty Selestow, Lin Zy inside the Rashmi Access Port, and actors Aaron Golematis and Erik Steele taking a well-deserved break.
** You also see a green screen here. While we always aim to do as many practical in-camera shots as we can, certain shots call for doing some green screen right on location so we can capture the exact lighting that we are filming in. The end result of the movie will be a combination of live-action, miniatures, puppets, 3-D animation and 2-D compositing, but the goal is to make it look and feel like it's all live action, using mostly old-school slight-of-hand effects, similar to the ones used in the original Star Wars films.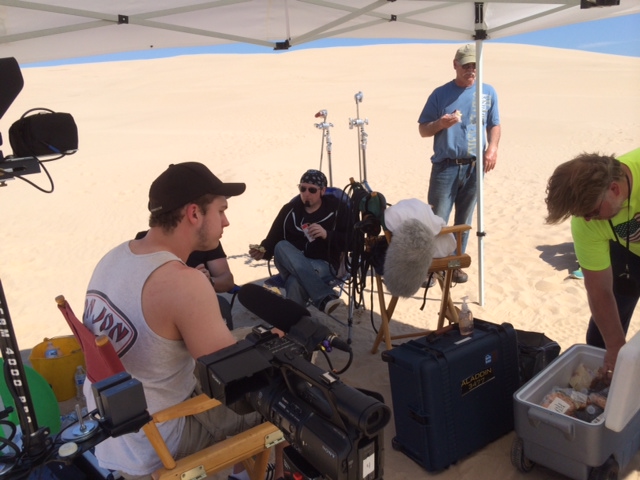 ** Ask anyone who worked on these Location Shoots- while we all had a blast, the work was grueling. For most of our locations we had to be transported onto the dunes with off-road vehicles, but even those could only take us so far before we had to trek as far as a mile on foot. Climbing hills of sand with heavy equipment is anything but easy. To the right you can see some of our key crew taking a well-deserved break under a tent at one of our locations. From left: Alex Jacobson, Nick Goodwin, Ric Viers, Frederick Busch and Clayton Selestow.
** Of course, all the hard work is worth it! You should see some of the footage! And I'm hoping to share some screenshots soon- I don't want to give away too much too soon! I'll have some juicier photos next month.
In the mean time, you can see more frequent behind-the-scenes photos randomly dropped at these social networks, so be sure to like, add, friend, and follow:
LIKE THE ALADDIN 3477 FACEBOOK PAGE!
FOLLOW DIRECTOR MATT BUSCH'S TWITTER!
ADD ALADDIN 3477 ON INSTAGRAM!
FRIEND ALADDIN 3477 on FLICKR!
Thanks all for your support!  Lots more to share soon, so stay on top of those social networks for exclusive sneak peeks!
-Matt Busch
---
One Comment
Leave a Reply
You must be logged in to post a comment.