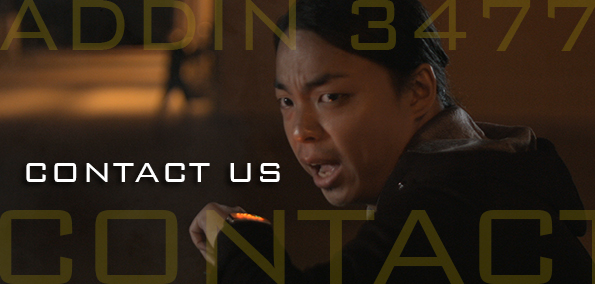 Feel free to drop an email using the form below. That said, you may get a quicker response by communicating with us through social media. Here's where you can find us:
Aladdin 3477 Facebook
The official ALADDIN 3477 Facebook page is frequently updated with all the latest and the greatest. Please go and "Like" us to stay in the loop!
Aladdin 3477 Instagram
Director Matt Busch's Instagram promises to deliver a brand new behind-the-scenes ALADDIN 3477 photo each day! He also shares some of the STAR WARS projects he is involved with, so go "Follow" him now!
Matt Busch YouTube
The first place you'll see ALADDIN 3477 trailers, as well as weekly behind-the-scenes video featurettes, is on Matt Busch's YouTube page. Go and "Subscribe" now!
Matt Busch Twitter
Matt Busch also updates his Twitter account from the Kaleidoscope Koi Soundstage, where ALADDIN 3477 is currently filming. "Follow" his tweets!
Matt Busch Facebook
Last but not least, Director Matt Busch has a Facebook page he updates with all kinds of goodness on new STAR WARS projects, HOLLYWOOD IS DEAD, and of course, ALADDIN 3477. Give him a "Like"!
Thank you for visiting Aladdin3477.com- please come back soon for some exciting announcements!
Your email address will not be published. Required fields are marked *