CASTING CALL UPDATE

February 2, 2014

By
Aladdin3477

Community News
,
Production News

1 comment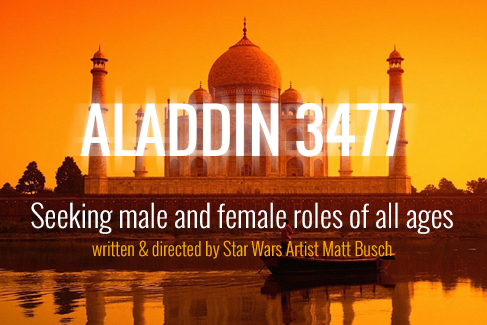 The Open Casting Call for ALADDIN 3477 is now closed.
From Casting Director Brandt Keller:
The Online Open Casting Call way exceeded our expectations, bringing in well over 10,000 talented applicants. The process is overwhelmingly awesome, and we cannot thank everyone enough for the interest, support, and taking the time show us what you can bring to the table.
The great part about my job is getting to see so much great talent. The part that isn't as fun is narrowing down and having to make cuts. So many incredible actors and actresses submitted. Know that if you don't make it to audition, it's not a reflection of your talents, but just not what we were looking for on a particular character.
What to expect from here…
**We are taking the month of February to contact selected applicants and move forward with the auditioning process. We hope to have the cast locked and loaded at some point in March.
**Because of the high number of submissions, we sadly can only contact those we are moving forward with. If you haven't heard from us by the end of the month, it unfortunately means you were not selected to audition.
**In the mean time, please do not email in asking for an update- let us contact you. We have you organized by email folders on potential characters, so contacting us during this process brings you back to the main inbox- this could slow down or pull your contact out of a particular folder, confusing things and possibly eliminating a potential character or two we had you in mind for.

If you don't make the cut…
**We only have so many characters with speaking roles, but plenty of wild citizens exist in the year 3477. Please consider helping us out by being an extra on set! We will be posting more information on that closer to filming.
**And, this movie is designed to be a franchise. If successful (and that is the idea) there will likely be sequels. I can't tell you how many times Matt and I have looked at some of you with jaws dropped- where we knew you weren't a fit for this particular story, but we would often say at the same time "…but if there's a sequel!" Should we make another movie or two, please don't let this round dissuade you from submitting again.
If you do make the cut…
**If you are selected to audition, we will let you know how to proceed.
**We hope to have the cast locked by March. If you get the gig, you will be immediately fitted for wardrobe. Preliminary un-fitted costumes are already underway.
**Rehearsals and read-throughs will be in April.
**If all goes as it should, we begin filming Aladdin 3477 mid-May.
Full Speed Ahead!
On behalf of Matt and myself, thanks again for taking the time to be a part of this process. We would give you all parts if we could!
-Brandt Keller
One Comment
Leave a Reply
You must be logged in to post a comment.